This is a sketch....
....and here is my LO...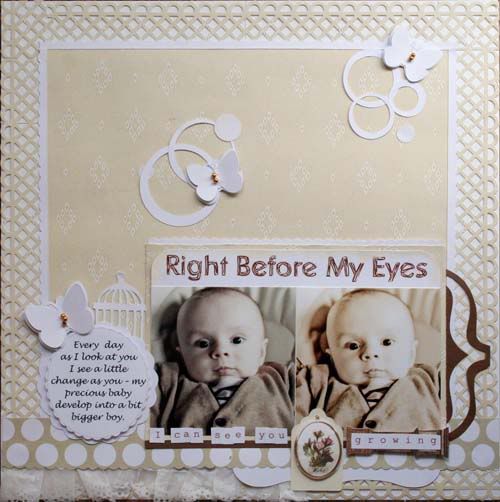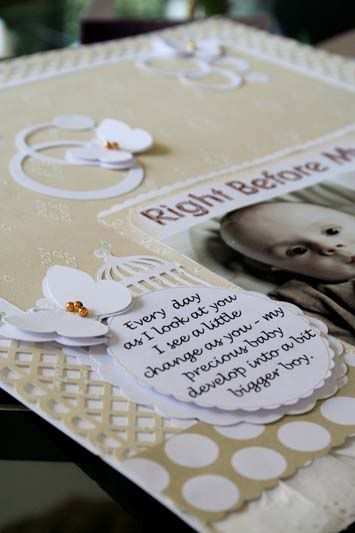 Here is my take on May 15 challenge at
Once Upon A Sketch
. This time journaling should be typed. Can you believe this, I even went and bought a printer for it, well it was about time I had one really, but as you can see scrapbooking has totally twisted my little head. ha, ha ;)
Sveiki Mielieji blogiečiai, kaip ir jau suprantate (jeigu sekate) skrebukas darytas OUAS blogo užduočiai, kuri šį kartą buvo apie 'spausdintą užrašymą'. Yra visiškas išprotėjimas, buvau - gerąja prasme priversta įsigyti printerį. Pats laikas aš jau jį turėjau.
Mano žmogučiui čia trys mėnesiai, man jis toks rimtas ir suaugęs pasirodė...kiekvieną dieną aš vis pastebiu kaip jis auga, auga (Henris jau beveik šešių mėn)...kartais visai jau kaip didelį berniuką matau...tiesiog kartais žvilgsnis ar aprengimas sekundėlei nuveda kur kitur, lyg į ateitį...Ar pastebėję ir jūs tai kitos mamos 'ant' savo vaikų? Taigi ir pavadinimas yra apie tai - aš matau augantį tave tiesiai prieš mano akis (ar mano akyse).
Dėkui kad užsukote ;)