Here is my entry into Once Upon A... Sketch challenge blog. This LO 'momma's blanket' is based on my urge to make a blanket for my soon-to-arrive baby. And I can tell you it was more fun working on the sketch than it was day after day knitting this blanket, but I did get a sence of achievement and my baby got warthm and something (hopefully) to treasure.
Thanks for visting!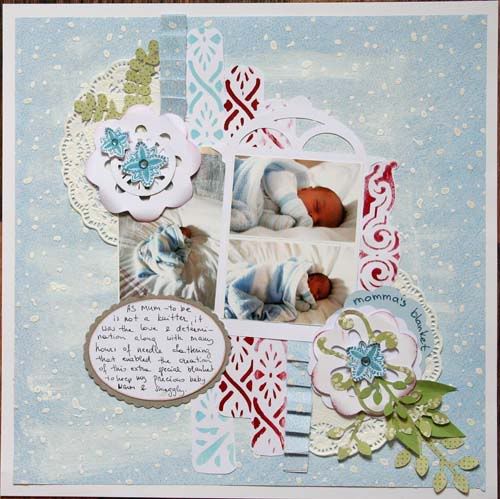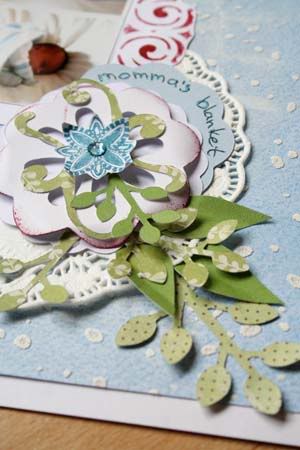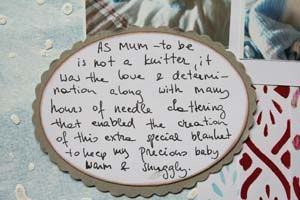 Skrebukas darytas dalyvaujant
Once Upon A...Sketch
iššūkių tinklaraštyje.
Mano trijų savaičių mažulėlis, įsuktas į 'mamos' (čia manęs) numegztą apklotėlį. Megzti man nepatinka ir nelabai nemoku, bet kaip gi čia
prasiversi
su naujagimiu be savo 'padaryto' apklotėlio...
Žinojau iš kart, kad man tokio reikės ir nesvarbu kiek mezgimas trūks, bet leliukas bus laiku įsuktas, apklotas su mamytės apklotėliu. Berniukas - vadinasi būtinai mėlyna, na dar ir baltos dadėkime. Ant tėvų lovos paguldytas, toks mažas, lyg ryšulėlis kieno paliktas ;)
Žinutė verstūsi taip: Būsima mama nėra mezgėja, meilė ir užsispyrimas, kartu su daug valandų virbalų klebėjimu (tratėjimu) leido šiam ypatingam apklotėliui kurtis, kad laikytų mano mielą leliuką šiltai ir patogiai. (sorry, nekoks lt vertimas).
Dėkui už apsilankymą!